The word "Diwali" is a contraction of "Deepavali", originating from the Sanskrit word Dipavali (
दीपावली
) which can be translated to "Row of Lights". Hence the Diwali Festival is also called the "Festival of Lights". Diwali is the name for the festival in North-India. In South-India the festival is called "Deepavali".
This year Diwali will be celebrated on Tuesday, 03th of November 2013.
Legends behind celebration of Diwali
Diwali celebrates to victory of the Good over the Evil and Light over Darkness. Is has a major religious significance for Hindus, Sikhs and Jains alike - not only in India, but also for Indians living abroad. The day of Diwali falls on Ashvina Amavasya and this date also marks the beginning of the Hindu New Year, and many businesses in India starting a new accounting year on the Diwali holiday. Diwali is actually celebrated in honor of Lord Rama and His wife Sita returning to their kingdom of Ayodhya, after defeating demon King Ravana.
Diwali marks the end of the harvest season in most of India. Farmers give thanks for the bounty of the year gone by, and pray for a good harvest for the year to come. Traditionally this marked the closing of accounts for businesses dependent on the agrarian cycle, and is the last major celebration before winter. Maa Lakshmi symbolizes wealth and prosperity, and her blessings are invoked for a good year ahead. There are two legends that associate the worship of Lakshmi on this day. According to the first legend, on this day, Lakshmi emerged from Kshira Sagar, the Ocean of Milk, during the great churning of the oceans, Samudra manthan. The second legend (more popular in western India) relates to the Vamana avatar of the Lord Vishnu, the incarnation he assumed to kill the demon king Bali. On this day, Vishnu came back to his abode the Vaikuntha; so those who worship Lakshmi receive the benefit of her benevolent mood, and are blessed with mental, physical and material well-being. Lord Ganesha is also worshipped along with Maa Lakshmi because he is treated as remover of all obstacles and worshipped before all the Gods.
Lakshmi Puja
should be done during Pradosh Kaal which starts after sunset and approximately lasts for 2 hours and 24 minutes. You can do puja between 17:31 to 20:09 but the most auspicious time for Diwali Poojan is given below:
Maa Lakshmi Puja Muhurta = 17:31:00 (5.31 p.m.) to 18:19:00 (6:19 p.m.) - on 03rd November 2013
It is believed that Goddess Lakshmi visits homes during Diwali time so everyone likes to clean and decorate their homes in the best way possible. From whitewashing to buying new furnishings, people love to work on their homes during Diwali. You can use your creativity and decorate your home with flowers and rangoli patterns this Diwali and you will feel the presence of nature in your home. The sweet fragrance of flowers enhances the aesthetic appeal on the rangoli patterns and the combination looks magnificent on the front door of a home. Besides flowers and rangoli patterns, place electric lights in appropriate places in your home as well. Be careful with the placement of candles and diyas and ensure that they are kept away from curtains and other flammable things.
On Diwali evening, it is customary to start the celebrations with a Lakshmi Puja. Decorate the puja thali and clean the temple beforehand. Start with Ganesh Puja and move on to Lakshmi Puja. Distribute the puja prasad to all family members after the puja is complete.
Important points to be kept in mind for Diwali Puja & Lal Kitab Tips/Remedies for Diwali
1.
On the night of Diwali, listen or read Vishnu Sahasra Naam and Shree Sukta
2.
Purchase a new broom on Diwali and use it to clean the place where pooja has to be done. You can use it regularly from next day onwards. It will help in improving prosperity.
3.
Try to offer homemade Rice or Sabudaana Kheer to Maa Lakshmi instead of offering sweets available in market.
4.
If it is possible, have 11 Abhimantri "Gomti Chakra" and keep them in a red cloth bag. Treat these Gomti Chakra as Maa Lakshmi and worship them in your pooja. After doing pooja, you can keep these Gomti Chakras in your locker or almirah or the place where you keep your money. This will help you in gaining wealth and prosperity. People whose business is not growing must do this to gain benefit.
5.
Most Important for all of you is to install a Crystal or Sphatik Shree Yantra on Diwali at your house. If you have this yantra, then after undertaking panchabhishek (washing with milk, ghee, honey, curd and gangajal) worship it. Maa Lakshmi resides in Shree Yantra and it will definitely bestow peace, happiness and blessings of Maa Lakshmi on you.
6.
There are many people who are facing unemployment or their mind is always wandering here and there. They should wear Shree Yantra Abhimantrit Locket which will help them in gaining wealth and good intelligence. People who want to have promotion can also wear this locket or alternatively install Abhimantrit Shree Yantra at their house.
7.
If possible while doing Diwali Pooja wear Sphatik Bead mala. It will increase the effect of Diwali Pooja many times. Alternatively wear Lakshmi Narain Pendant which is a combination of Seven Mukhi and Ten Mukhi Rudraksha denoting Maa Lakshmi and Vishnu Ji respectively.
8.
On all days starting from Dhan Teras till Bhaiya Dhuj, try to
light a
diya
near the Tulsi plant.
Pushkar Puran
states, "The person who lights the lamp of sesame (

til

) oil in the name of Lord Shri Hari in the month of Kartik (during Sandhya) gets unlimited prosperity, beauty, blessedness and wealth". So if possible try to lit lamp of sesame (til) oil in evening during the whole month of Kartik (i.e. from 19th October 2013 to 17th November 2013).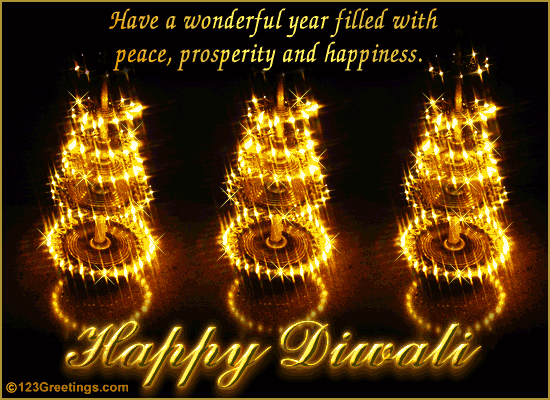 " HAPPY DIWALI TO ALL OF YOU & YOUR FAMILY
Astrologer, Numerologist and Spiritual Healer